Sometimes, our patients have well-maintained, healthy teeth, but they still want to change the aesthetics of their smile. Depending on the specific improvements the patient requests, we may recommend veneers. Splendid Dental Care Bellaire is your reliable source for dental veneers in TX. We are a multidisciplinary practice with extensively trained, highly experienced cosmetic dentists.
Why Choose Dental Veneers in TX?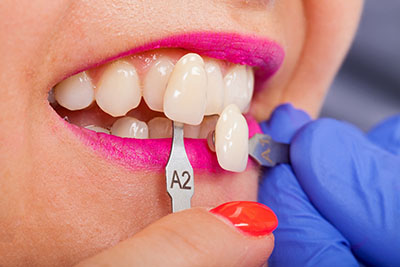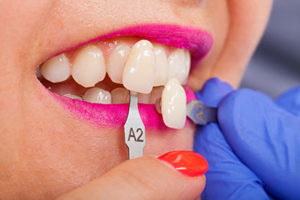 Our dentists consider custom veneers to be the best way to transform your smile quickly. Veneers are thin, custom-fit sculpted porcelain shells the dentist places over the patient's teeth to create the appearance of a perfect smile. Patients choose veneers when they want our dentist to cover a variety of cosmetic flaws, including:
Crooked teeth

Teeth that are unequal in length

Gaps between teeth

Permanent stains on teeth

Chipped or misshapen teeth
 Veneers resist staining. Therefore, veneer patients may enjoy their wine, tea, and coffee without fear of discoloring their smile as long as they care for their dental work.
What to Expect During Your Initial Dental Veneers Visit
The first step toward your new set of veneers is setting up a consultation with our talented team at Lovett. We are a leading provider of dental veneer services in TX. At your consultation, we will examine your mouth and teeth to determine if veneers are an appropriate solution for you. If our team determines you are a candidate for veneers, we will take an impression of your teeth. Next, your dentist will help you choose the shade of white that best matches your teeth. Two hours later, you will leave our office with a set of temporary veneers. These temporary veneers will protect your teeth while a world-class lab custom crafts your permanent set.
Your Follow-Up Dental Veneers in TX Visit
After approximately two weeks, you will return to our office. At your follow-up visit, we will remove your temporary veneers and bond your permanent set to your teeth. Your cosmetic dentist will make continuous adjustments to ensure your gleaming new smile fits comfortably. As a leading provider of dental veneers, we will ensure you leave our office with veneers that look natural and feel great.
Caring for Your Teeth After Dental Veneers in TX
You will likely be able to resume your daily activities immediately after receiving your permanent veneers. It is normal to experience sensitivity in your teeth for the first few days following your procedure. Any sensitivity should naturally subside on its own without requiring intervention. Maintaining your veneers is no different than caring for your original teeth. Although veneers are much more stain-resistant than your natural teeth, you should still try to avoid foods and drinks that typically stain natural enamel. As top providers of dental veneer services in TX, our dentists are committed to providing excellent service. After receiving your new veneers, you may call our office anytime if you have questions about maintenance and aftercare.
Flexible Cosmetic Dentistry Solutions
If you are searching for affordable cosmetic dentistry, look no further. In addition to accepting every insurance carrier, our cosmetic dentists provide dental veneers with payment options that suit every budget. We also offer flexible office hours to accommodate your busy schedule. Whether you are looking into cosmetic dentistry to improve your smile or if you are in the market for a new family dentist, our highly skilled team will take care of your whole family's dental needs. Our dental offices are open early, late, and on Saturdays. To schedule cosmetic dentistry at Splendid Dental Care Bellaire, call us at 832.365.4860.