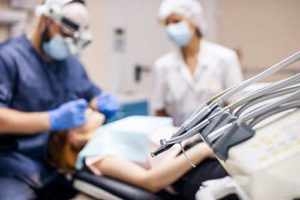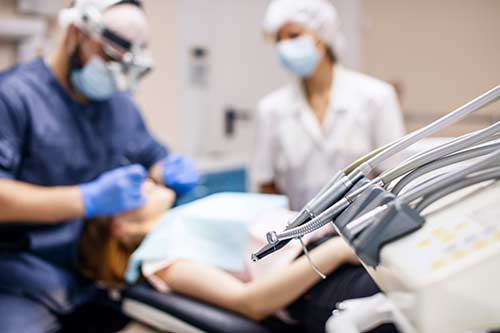 A dental emergency involves an acute injury, infection, or ailment that requires immediate dental treatment due to pain and bleeding. Visiting your family dentist regularly will help you avoid experiencing a dental emergency. If you experience any of the following conditions, you need to see a dentist right away:  
Severe pain

Cracked tooth

Abscesses or sores

Toothache

Loss of a permanent tooth

Any kind of mouth or jaw injury
Dental emergencies can be caused by accidents, injuries, biting into hard, sticky foods, and ignoring cavities. If you experience a dental emergency and are bleeding profusely, do not take aspirin or ibuprofen products, such as Motrin, Advil, or Aleve; they are blood thinners (anticoagulants) and could make the bleeding worse. These are a few of the dental emergencies we see most often at our Bellaire dentist office (and what to do if you experience any of them). Call us at 713-244-7797 to make an appointment.

Help! I Lost Permanent Tooth!
If a tooth gets knocked out of your mouth, don't panic. Do your best to avoid touching the root of the tooth. Carefully rinse the tooth under warm water from the faucet to remove dirt. If you can, try to place the tooth back in its socket. If the tooth fits in its socket, use a damp paper towel to hold it in place while you call your emergency dentist. Be very careful to avoid swallowing the tooth. If the tooth will not fit in the socket, place the tooth in a container of milk or your own saliva. This helps keep the tooth from drying out while you drive to a nearby emergency dentist. 
How to Deal with a Cracked Tooth
For a cracked tooth, carefully rinse your mouth with some warm water to clean the area. Hold an ice pack or bag of frozen vegetables to your face on your way to the dentist. We also offer the following services:

Severe Toothache or Jaw Pain
If you experience tooth or jaw pain, rinse your mouth with warm water and call your emergency dentist. The severity of the pain will determine whether you need to see your dentist immediately or the next day. Call our office at 713-244-7797 to schedule an appointment. You are welcome to finish the intake paperwork before you arrive if it makes it easier.  
After an Emergency Dental Visit
After experiencing a dental emergency, your initial dental treatment will address immediate, health-threatening concerns. Some dental emergencies require a follow-up visit to address remaining cosmetic issues. Implants are an excellent solution to missing or broken teeth. We also offer orthodontic services and other cosmetic options.
How to Avoid a Dental Emergency
Wear a mouthguard when you play sports

Avoid crunching hard candy, ice, & popcorn kernels

Keep sharp objects away from your mouth

Practice good oral hygiene 

Have a custom nightguard made if you grind your teeth

Avoid alcohol and drug abuse

Avoid clenching your jaw in access

Immediately see a dentist if you experience severe tooth pain

Remain level headed in confrontations with aggressive people

Eat high-calcium foods

Avoid jumping over things if you've been drinking
Dental emergencies happen when they are least expected, so it's a good idea to keep your dentist's information in your purse or wallet. Promptly addressing a dental emergency will decrease the likelihood of needing oral surgery. We can easily make accommodations at our Bellaire office in order to see patients for dental emergencies outside of typical work hours. This can be especially helpful for people who work or attend school during the day. We are conveniently located on Richmond Avenue in Houston. Contact us at 713-244-7797 to schedule an emergency dental appointment.